Skip to Content
Hard Drive Destruction & Disposal in Atlanta & Miami
Hard Drive Destruction & Disposal Services at A1 Shredding & Recycling
A1 Shredding & Recycling strives to be the premier Hard Drive Destruction Company serving Miami & the Metro Atlanta area. We accomplish this by providing what we feel is the highest level of protection in document destruction service in the industry. Our high-tech shredding technology can turn a hard drive into little pieces of scrap metal and plastic. A1 Shredding & Recycling is your choice for Hard Drive Destruction. We offer on-site mobile hard drive destruction services.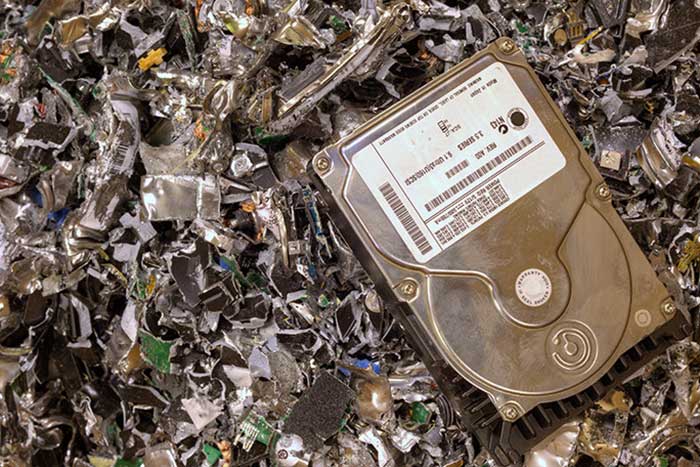 Safe and Secure
It's not just confidential papers that can land in the wrong hands, but various types of IT equipment and electronic storage devices. With headlines hitting the public with alarming regularity, businesses and organizations are under increasing pressure to ensure the secure destruction of all types of confidential data. A1 Shredding & Recycling specializes in the total destruction of all IT equipment. The safest and most secure method of ensuring there is no possibility of the information being reconfigured. Other service providers offering just data wiping. We are able to do much more!
What Makes Us Different?
COST EFFECTIVE:
With free quotes given, based purely on the number of items to be destroyed and including a full electronic audit, this is a cost-effective destruction method.
SECURE:
Our security personnel will carry out the approved destruction process on board our secure destruction vehicles.
DESTRUCTION METHOD:
Our unique and secure destruction method can be applied to all types of electronic confidential data, whatever form it takes; hard drives (all formats), tape & data media, memory sticks, DVDs and CDs
TAILORED:
We will meet all your requirements regardless of volume or location.
CONVENIENT:
Our service comes directly to you, on site, at a time that suits you.
GREEN:
A1 Shredding & Recycling aims to recycle the destroyed material as comprehensively as possible.
FULLY COMPLIANT:
We are AAA NAID certified and HIPPA compliant, giving you peace of mind.
Contact Us
Fill out the form below with your shredding needs and we'll get back to you shortly.
Delegate Your Shredding Today!