Skip to Content
Drop-off Shredding in Florida and Georgia
Drop-off Shredding Services in Georgia and Florida
A1 Shredding & Recycling provides secure document shredding services at our convenient shredding drop-off locations. Whether you are concerned about identity theft, or you do not have enough items to be eligible for on-site shredding, our quick BBB, NIAID, and HIPAA-compliant drop-off shredding is a convenient way to dispose of your sensitive materials with ease.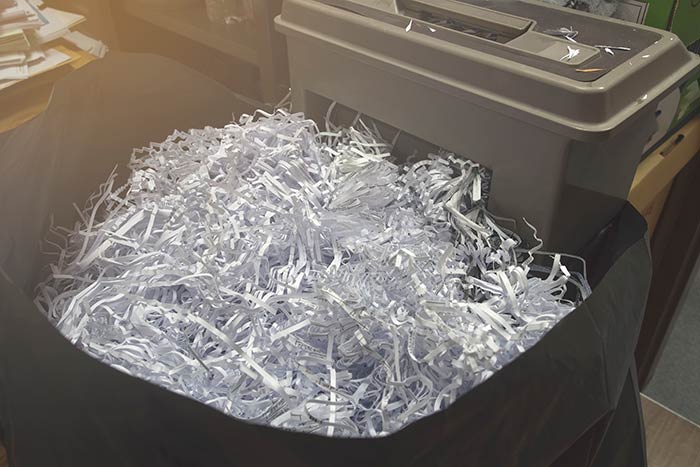 Our Drop-off Shredding Process
Our drop-off shredding process is simple and reliable, providing you with a protected service conducted by an experienced team of security experts.
Schedule Your Appointment. The first step in our drop-off process is to contact our office to schedule a drop-off shredding appointment at your earliest convenience.
Prepare Your Documents. Before you arrive for your appointment, have your documents arranged and prepared for shredding. Paperclips and staples do not need to be removed. However, large binder clips and binders should be removed.
Drop-Off Your Documents. When it comes time for your appointment, arrive at our facility with your prepared documents. We will weigh and secure the documents in specialized containers awaiting shredding. Our trained shredding technicians will then shred your confidential documents and provide you with a certificate of destruction.
One Time vs. Regularly Scheduled Shredding
If you have a one-time need to destroy documents or data, we're able to provide you with an efficient one-time solution. However, if you need paper shredding or document destruction on a consistent basis, we offer a secure document destruction bin that can be delivered, filled on an as-needed basis, picked up for secure disposal, and replaced by our experts.
What to Check for Before Requesting Drop-off Shredding
You are legally required to keep certain types of documents for a designated retention period. It is imperative that you follow proper retention policies and procedures to protect yourself while keeping your sensitive information secure. We can help you determine whether it is appropriate to shred specific documents in order to remain compliant with regulations.
The Importance of Drop-off Shredding Services
One of the most important factors that you should consider when it comes to protecting your information is avoiding security breaches and identity theft. Through the services of a professional document destruction company, you can help prevent unauthorized access to your data. Expert paper shredding services also ensure that the remnants of your materials are recycled.
Choose A1 Shredding & Recycling for Your Document Shredding
A1 Shredding & Recycling specializes in document shredding, hardware destruction, and recycling services. We understand the importance of privacy and protection for your confidential information and records. We carry the highest AAA NAID certification to ensure your products are in the best hands, and we work hard to prepare a shredding program tailored to your needs.
Schedule Your Drop-off Shredding Service Today
When you need sensitive documents disposed of safely and efficiently, you can rely on our experts. Our drop-off shredding services are secure and reliable with no hidden fees. Experience the peace of mind of working with HIPAA-compliant experts who prioritize your safety while providing superlative service. Schedule your drop-off or contact our friendly team with any questions.
Delegate Your Shredding Today!