Skip to Content
Shredding Containers in Florida and Georgia
A cluttered environment, particularly in an office setting, can create reduced productivity and distract you from completing work as well as everyday tasks. It can make moving around your home or office a hassle, as you are constantly trying to avoid stacks of documents. It also creates an unfavorable appearance for any lookers-on, possibly making a poor impression on potential clients, friends, and employees.
But what do you do if many of those incoming documents contain sensitive information? You can't just throw them out or entrust the task to the regular maintenance team. You must make sure your information is safe and properly destroyed before it is recycled. Luckily, the team at A1 Shredding & Recycling in Atlanta or Miami can help!
How does it work?
Our routine shredding services offer the convenience of not having to take multiple trips to get rid of sensitive documents and lessen the clutter in a home or office space where new documents are consistently piling up.
Here's how it works: We supply your company with several bins and place them around your offices. All our bins are locked and secure to keep your information safe before we can destroy the documents. The bins have an opening, like a mailbox, where you and other employees can insert any documents that need to be shredded.
Our team of insured and bonded technicians will routinely collect the bins for disposal, where they are inserted into a hydraulic lift that will place the documents into a shredder and effectively destroy all sensitive information.
If you schedule regular shredding but find that sometimes you need extra disposal help, that's no problem. Just give us a call and we will arrive within a few days to shred any extra documents. There is a small charge added to your regular invoice for extra trips.
If you need extra shredding during a regular maintenance trip, just leave us a note and one of our staff will come and take care of the extra materials. There is a small charge for excess documents.
Containers we offer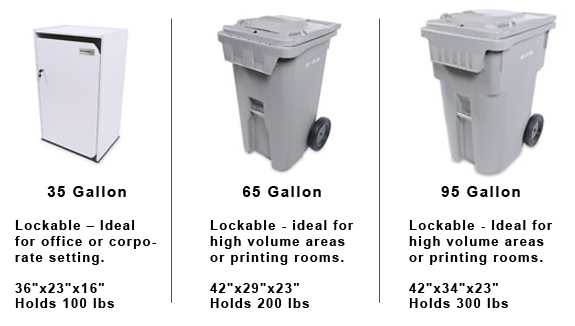 We offer a variety of different sizes of containers to fit your needs. The cabinet for all devices has an internal lock plate and double turn lock for added security, as well as a kick plate, paper deflector, and striking plate. The bins also have an internal locking system, external hasp locking system, and a molded paper slot with a deflector to prevent tampering. The different sizes of containers we offer include:
35-gallon – Lockable; ideal for a corporate or office setting. 36"x23"x16", holds up to 100 lbs.
65-gallon – Lockable; ideal for high-volume areas or printing rooms. 42"x29"x23", holds up to 200 lbs.
95-gallon – Lockable; ideal for high-volume areas or printing rooms. 42"x34"x23", holds up to 300 lbs.
Contact Us
Fill out the form below with your shredding needs and we'll get back to you shortly.
Call us to find out more about routine document shredding.