Skip to Content
Mobile Shredding Services in Metro Atlanta & Miami
Trucks for Mobile Shredding by A1 Shredding & Recycling
A1 Shredding & Recycling provides secure mobile shredding in Atlanta & Miami and all the surrounding areas. We are dedicated to providing cost-effective solutions for your businesses information security needs. We understand the need to protect your sensitive documents and for your business to comply with all state and federal regulations.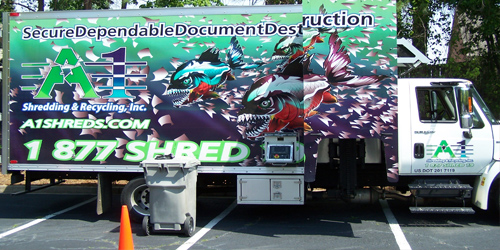 Numerous Mobile Shredding Service Levels
Mobile shredding – Our shredding trucks come to your business and destroy your confidential materials on site.
Routine Service – Daily, weekly, or monthly scheduled shredding service is available. Secure, locking shred bins are provided.
Purge Service – For those requiring annual, one-time or occasional shredding service, we recommend our specially priced purge program.
Secure Shredding – All of our shredding services are secure.
Certified Service – No matter how we shred you will get a Certificates of Destruction.
Residential Service – We come out to your home to do convenient, secure onsite shredding.
Recycling – affordable recycling and disposal services for commercial, municipal, and residential customers.
Specialty Mobile Shredding
A1 Shredding & Recycling uses powerful industrial shredders that are capable of destroying much more than paper. Arrangements can be made to destroy just about anything you have, including DVDs, CD, floppy discs, tapes, hard drives, X rays, photographs, credit cards, pill bottles, and much more.
Contact us for a specialty shred quote. Read more at Hard Drive Shredding in Atlanta.
We are prepared to meet your needs at every level for mobile shredding in Atlanta. Many of our customers start as "one-time" purges at the end of the year and grow into monthly shredding clients. We strive to provide the most competitive rates in town.
Contact Us
Fill out the form below with your shredding needs and we'll get back to you shortly.
Delegate Your Shredding Today!