Skip to Content
Secure Mobile Shredding Services in Georgia and Florida
Reliable, Fast Mobile Shredding Services
A1 Shredding & Recycling ensures your company's security in a world of theft and fraud risks. Over the years, we have perfected our offerings and provided our brand of customer service to countless businesses. We are Metro Atlanta's source for mobile shredding. With mobile shredding, we bring our patented services to your doorstep. Whether you're prepping for a move to a new location or doing some spring cleaning, you can count on our team's professionalism and attention to detail. We never miss a step or document, ensuring we keep your business safe and secure for the long haul.
Three Undeniable Benefits of Our Mobile Shredding Service
Our mobile shredding service is an excellent way to dispose of sensitive materials safely. Most companies accumulate mountains of documents and papers and documents along the way. If you aren't legally required to keep them, it's good to get rid of what you don't need to keep your office tidy and organized. We can help. While we offer numerous shredding services, such as tax season shredding and financial shredding, mobile shredding provides a range of benefits, including: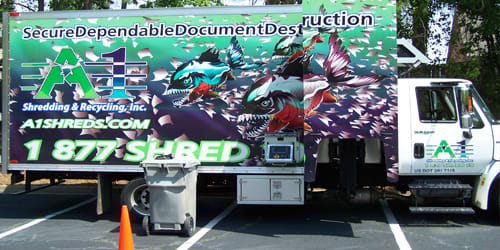 Security: We are proud of our reputation for reliable shredding services. But we do understand many of our customers like an added layer of peace of mind. Mobile shredding will give it to you. Because we come to your office, you can watch us dispose of financial and other documents safely.
Convenience: You have a busy schedule. Between client meetings and training sessions, there is no time to load boxes of documents into a truck and drive them to our physical location. Fortunately, the most noticeable benefit of our mobile service is convenience. We come to you.
Compliance: One of our most important roles is ensuring compliance with all federal and state privacy laws. Some laws prevent you from destroying any documents. Others require you to do so safely. We do the job correctly and issue a certificate proving you complied with regulations.
Why We Are the Best Mobile Shredding Service
We have honed our practices to a "T," making us the best mobile shredding service. We allow you to schedule your onsite mobile shredding at your convenience. Many of our customers return to us because of our willingness to work around their busy schedules. We are confident you'll do the same. When you work with our team, you can expect a finely-honed process. All you have to do is set up bins throughout your office to house documents to shred. When you're ready, our team will arrive at your location. We'll go from bin to bin and empty the contents directly into the shredder. After we're done, we put the containers back and leave them until the next time you contact us.
What Our Secure Mobile Shredding Team Can and Can't Destroy
One of the benefits of our secure mobile shredding service is its flexibility. We can shred almost anything. While we cannot get rid of durable materials like cardboard, hardcover books, CDs or DVDs, or hanging folders, we can shred almost anything else. For instance, we can safely destroy paper, receipts, inventory records, printouts, and much more. We ask you to remove staples, paper clips, and folders, which we cannot shred.
How to Schedule Mobile Paper Shredding Services
Every company has unique needs. Some businesses have a sporadic need for mobile paper shredding, and others produce mass quantities of documents. We are flexible and can accommodate your needs – whatever they are. Scheduling our shredding services is easy. If you are the type of company that needs shredding at random times, you can call us whenever you need us and schedule a time. But if you routinely require our services, you can pre-schedule times. For instance, we can come to you once monthly on the first Friday of the month. The choice is yours.
Contact Us Today for Mobile Document Shredding
At A1 Shredding & Recycling, we pride ourselves on our well-earned reputation for top-tier mobile document shredding. It is important to satisfy our customers, and we thoroughly enjoy helping our clients grow and prosper. Hiring our team for mobile shredding will make your company more streamlined. Plus, we will give you the peace of mind that goes with knowing you are compliant with all federal and state laws and regulations. Most importantly, we are a diverse and multi-talented team. We can also offer invaluable services such as hard drive destruction and disposal. If you feel you require our services, we encourage you to contact our team today.
Contact Us
Fill out the form below with your shredding needs and we'll get back to you shortly.
Delegate Your Shredding Today!