Skip to Content
Mobile Shredding Services in Metro Atlanta & Miami
Trucks for Mobile Shredding Services by A1 Shredding & Recycling
We Will Shred Sensitive Information at Your Home or Office
Whether you run a business or simply have years of personal documents cluttering your home office, you can benefit from A1 Shredding & Recycling's mobile shredding services in Atlanta, GA, and Miami, FL. We have a team of dedicated document destruction professionals who will come to you to purge your sensitive files. Our security experts have completed extensive training in security, privacy, and proper destruction, so you can rest assured your information is safe. For added peace of mind, you can even watch us destroy your files on-site. If you have banking information, medical records, or other personal data that you need to protect, do not simply toss it into a garbage can. Call us today to learn about our comprehensive mobile shredding services.
Our Team Serves Clients in Atlanta and Miami
We have earned a reputation throughout the Southeast for exceptional customer service and reliable document destruction. We have state-of-the-art shred trucks that we will bring to your home or office in the Atlanta metro area or South Florida to shred or destroy your sensitive information efficiently. Your time is valuable, so we will not make you drive across town to a drop-off facility with your papers in boxes. Let us know the dates and times that work for you, and we will accommodate your schedule. Our team will show up on time to quickly and efficiently shred your files, allowing you to return to your regular responsibilities in no time.
Mobile Shredding Service Levels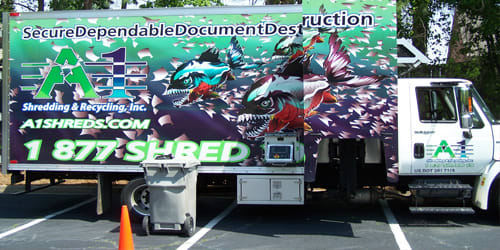 Our customers have a wide range of mobile shredding needs, and we are committed to satisfying all of them. Whether you want one-time shredding services to free up storage space or run a financial institution that requires regular purges, we can help. Each service is secure and convenient, and we will provide a Certificate of Destruction following our visit. Our various mobile shredding service levels include:
Routine Service – We will provide secure, locking shred bins for you to place in your building. On a daily, weekly, or monthly schedule, we will retrieve them and shred their contents
Purge Service – If you need annual or one-time mobile shredding services, our specially-priced purge program may be right for you.
Recycling – A1 Shredding & Recycling offers affordable recycling and disposal services for commercial, municipal, and residential customers.
Types of Information We Can Destroy On-Site
When most people think of shredding services, the first visual that comes to mind is a machine that dices files into long, thin slivers of paper. But our shredding services are more complex than that. In addition to documents with personal information written or printed on them, we destroy a plethora of other materials. A1 Shredding & Recycling can destroy nearly anything you have featuring sensitive data. We offer specialty mobile shredding services for items such as:
CDs
Credit Cards
DVDs
Floppy Discs
Hard Drives
Pill Bottles
Photographs
X-Rays
Benefits of Professional Mobile Shredding Services
In many instances, shredding sensitive information is the law. A1 Shredding & Recycling follows all local, state, and federal rules and regulations regarding document destruction, and we maintain compliance with the Health Insurance Portability and Accountability Act (HIPAA). But helping you abide by the law is not the only benefit of our mobile shredding services. Others include:
Protecting against identity theft
Saving time
Protecting the environment by recycling
Keeping business information confidential
Increasing storage space
Ensuring customer trust
Why You Should Choose A1 Shredding & Recycling
A1 Shredding & Recycling is the premier mobile shredding services expert in Metro Atlanta, GA, and Metro Miami, FL. Our trucks for mobile shredding feature first-rate equipment to ensure your files are safe and secure from the moment we receive them. You can even watch us shred your documents or other materials on-site. We have met the strict standards set forth for certification by the National Association of Information Destruction (NAID), so you can rest assured you will never have to worry about your files falling into the wrong hands. And we want to make the process as simple and affordable as possible, so we offer flat-rate pricing with no hidden fees. Whether you need regular or one-time mobile shredding services, we are the team to call.
Contact A1 Shredding & Recycling Today
Protecting yourself and your customers are paramount to running a business. If you lead a financial institution or medical practice, mobile shredding services are a must. A1 Shredding & Recycling will bring a truck for mobile shredding to your location in Atlanta or Miami to safely destroy all of your sensitive files and information. Contact us today for a free estimate.
Contact Us
Fill out the form below with your shredding needs and we'll get back to you shortly.
Delegate Your Shredding Today!