Skip to Content
No Contact Mobile Shredding in Florida and Georgia
No Contact Mobile Shredding Services by A1 Shredding & Recycling
We Bring Shredding Services to You
Shredding your important financial, medical, and business documents are essential to protecting your critical information, so you must partner with a document shredding specialist. Individuals throughout Atlanta, GA, and Miami, FL know they can trust A1 Shredding & Recycling to handle all of their document destruction needs. We aim to make the process easy for each of our clients by providing non-contact mobile shredding services. When you are ready to dispose of proprietary information or financial records, let us know. We will come to you and safely destroy them in a confidential manner. Our mission is to protect you. Call us today to learn how we can accomplish that goal.
In order to keep everyone safe and healthy, these are some of the protocols we have established at A1 Shredding & Recycling:
All staff members and drivers wear masks and gloves
All staff members and drivers get their temperatures checked prior to starting shift
Credit card payments can be taken over the phone
All staff members are following all guidelines established by the CDC
Staff members will keep a safe distance during pick ups and will fill containers for all customers in order avoid direct contact
Our Team Serves Customers in Atlanta & Miami
We have offices in Marietta, GA, and Miami, FL, and our team is proud to bring our services to your home or office. In these unprecedented times, no-contact mobile shredding is the safest way to purge your sensitive documents. All you need to do is let us know where you are and the time that works best for you. Our friendly team will schedule an appointment to visit you in the Atlanta or Miami metro area. Despite operating in two states, A1 Shredding & Recycling is well-versed in all the local laws, so you can rest assured we will safely discard your documents in compliance with all applicable rules and regulations.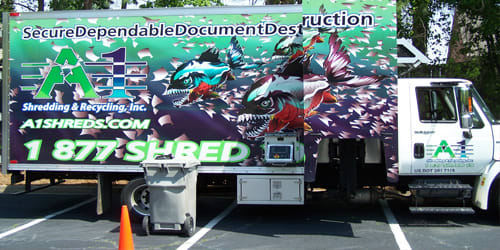 Why Shredding Your Documents is Important
Do not underestimate the importance of safely shredding all of your sensitive documents. Merely crumpling pieces of paper into a ball and tossing them into the garbage leaves all the information written or printed on them visible to those who should not be privy to it. When you are dealing with medical records, financial statements, and classified information, privacy is of the utmost importance. Furthermore, you are bound by the Data Protection Act to destroy all confidential waste. A1 Shredding & Recycling can ensure you and your clients are protected. Among the other reasons you should shred your personal and business-related documents are:
Protect against identity theft
We will recycle your paper to promote eco-friendliness
Avoid corporate espionage
You can expand storage space by purging records you no longer need
Reduce fire hazards
Ensure customer trust
Benefits of No-Contact Mobile Shredding Services
No-contact mobile shredding services for residential and commercial clients is secure and convenient. You do not have to worry about bringing all of your files to a warehouse location or invest in large-scale shredders for your home or office. A1 Shredding & Recycling makes the process quick and easy. We will bring a shred truck with an industrial-strength shredder to your location in Atlanta or Miami when you need to dispose of your documents safely. The main benefits of our no-contact mobile shredding services include:
Security – You will be permitted to watch a shredding professional destroy your sensitive information using our state-of-the-art machine. Rather than handing boxes of papers to an individual who takes them to another location, we will shred them right there in front of you.
Convenience – We are proud to work around your schedule. Our team knows your time is valuable, so we will arrive promptly and work quickly so that you can return to more pressing matters.
Safety – We are familiar with all local and federal regulations. Our mobile shredding services are compliant with the Health Insurance Portability and Accountability Act (HIPAA), Gramm Leach Bliley Act (GLBA), and more.
Why You Should Choose A1 Shredding & Recycling
A1 Shredding & Recycling has earned certification from the National Association of Information Destruction (NAID), signifying we meet all of the organization's strict information disposal standards. Upon completion of your mobile shredding services, we will provide you with a certificate of destruction, guaranteeing your files have been safely and securely destroyed. We are committed to providing exemplary customer service for every project, and we will gladly answer any questions you may have during the process. All of our services come with flat-rate pricing and no hidden fees, so you will know what to expect every time.
Contact A1 Shredding & Recycling Today
When you have sensitive information that should not be viewed by those outside of your home or organization, you should call A1 Shredding & Recycling for no-contact mobile shredding services. We will bring our secure shred truck to your home or business in Atlanta, Miami, or the surrounding areas. Contact us today to request a free estimate.