Skip to Content
Hard Drive Destruction & Disposal in Georgia and Florida
Secure Hard Drive Destruction & Disposal Services
A1 Shredding & Recycling extends our destruction and disposal knowledge to help clients in Georgia and Florida securely discard their hard drives without fear of a security breach. Our high-tech shredding technology can turn your old hard drive into scrap metal and plastic that we will then recycle, ensuring minimal environmental impact.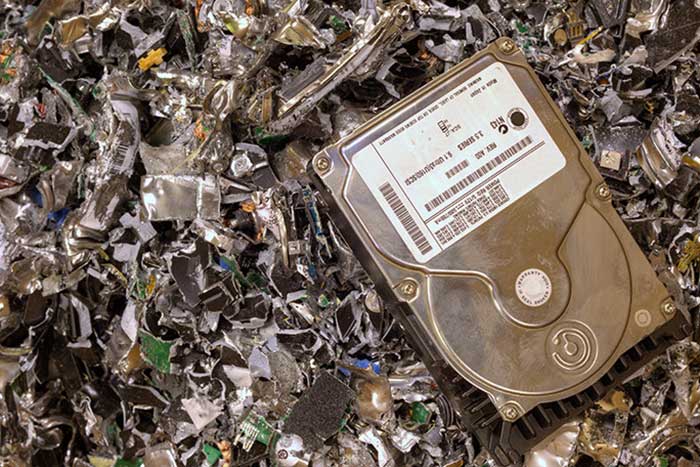 Our Hard Drive Shredding Process
Our process destroys the hard disk drive by putting it through multiple rotating blades that irreversibly compromise its functionality and eliminates the component that stores your data. We reduce the hard drive to recyclable material and distribute the remnants to the appropriate place for enhanced sustainability.
More Than Just Erasing Data
Even after you have wiped your hard drive, fragments of data can still be found. A thief can use these fragments to commit fraud and access your confidential records. When disposing of your hard drive, it's important to rely on a professional to not only erase data but prevent any security breaches.
We Prioritize Your Safety
We've all seen the headlines regarding confidential information landing in the wrong hands, causing businesses to fall under increasing pressure to ensure the secure destruction of all types of data. A1 Shredding & Recycling specializes in the destruction of all IT equipment. Our security professionals use the safest, most reliable method of disposal, ensuring there is no possibility of the information on your hard drive being reconfigured.
Types of Hard Drives We Handle
Our state-of-the-art equipment can handle internal hard drives from office servers, computers, and laptops of all sizes, including form factors of 3.5 inches and 2.5 inches, and various types, such as IDE, SATA, SAS, SCCI, and SSD. Whether your hard drive is manufactured by Western Digital, Seagate Technology, Hitachi, or Toshiba, we can properly shred and dispose of your item.
Hard Drive Destruction Cost
Our hard drive destruction and disposal service cost will vary depending on your hard drive and the number of items. We offer one-time destruction services as well as routine services for businesses that require frequent disposal solutions. Reach out to our friendly team today to obtain a free quote for your hard drive destruction service.
Choose A1 Shredding & Recycling
We tailor our solutions to fit the needs of our clients, as we understand how important it is to properly dispose of sensitive materials. We pride ourselves on providing high-quality, cost-effective, and environmentally conscious shredding, destruction, and recycling services. Between our leading destruction methods, trained technicians, and fully compliant practice, we offer our clients unrivaled service.
Choose A1 Shredding & Recycling for Hard Drive Destruction
Don't compromise the integrity of your privacy. Trust our reliable security experts to safely dispose of your confidential materials. Contact our friendly team today to discuss how we can help you dispose of your items in a secure and efficient way.
Delegate Your Shredding Today!